This week brings us Easter and The Detroit Tigers home opener (which in our house is an unofficial holiday).
Sunday
Carrot Crescent Rolls filled with Egg Salad
from
Hungry Happenings
Happy Easter! We usually celebrate with family, in the middle of the afternoon we have our big meal so by dinner time we aren't really hungry but I like to have something light in case we get hungry. This is the perfect meal.
INGREDIENTS:
1 tube Pillsbury Crescent Recipe Creations Crescent Seamless Dough Sheet*
1 egg (whisked with 1 tsp of water to make an egg wash)
Yellow and Red liquid food coloring (the kind from the grocery store is fine for this recipe)
1-1/2 cups of your favorite egg or ham salad
1 bunch of fresh dill or parsley
*if you can't find this product, you can use sheets of puff pastry, or use crescent rolls and pinch all the seams together.
SPECIAL EQUIPMENT NEEDED:
pizza cutter or knife
6 metal cream horn molds
pastry brush
non-stick aluminum foil lined baking sheet
DIRECTIONS:
Preheat the oven to 400 degrees.
Unroll the Crescent rolls onto a cutting board. Use a pizza cutter or a knife to cut the dough lengthwise into 6 equal strips. Brush one strip with egg wash. Roll the strip into a 17"-18" long log.
Wrap one dough log around each cream horn mold. Repeat. Be sure your dough does not hang over the open end of the cream horn mold, as it will make it difficult to remove once baked.
Line a baking sheet with non-stick aluminum foil or parchment paper. Squeeze about 30 drops of yellow food coloring in a small bowl. Add one or two drops of red. Stir to create orange. Brush the orange all over each carrot shaped dough. Set carrots on a lined baking sheet.
Bake for 6-8 minutes. Carefully remove from the cream horn by holding the carrot in one hand and using the other to twist the mold and gently pull it out.
Fill each carrot with egg salad or ham salad. Press a few sprigs of dill or parsley into the egg salad for a decorative effect.
Philly Cheesesteak Sloppy Joes
from
Rachael Ray
INGREDIENTS:
4 Tbsp olive oil
1 lb ground sirloin
1 softball-sized onion, chopped
Kosher salt and pepper
1/4 cup steak sauce, such as A-1
1 cup beef stock
2 Tbsp butter
2 Tbsp flour
1 cup milk
1 cup shredded provolone cheese
4 ciabatta rolls, hoagie rolls, or 6-inch lengths of Italian bread, split
DIRECTIONS:
Heat 1 Tbsp of olive oil, 1 turn of the pan, in a large skillet over medium-high heat. Add the beef and cook 5 to 6 minutes, crumbling with a wooden spoon as it browns. Add the onion and season with salt and pepper. Cook until the onions are tender, 7 to 8 mins. Stir in the steak sauce and beef stock, bring the mixture up to a bubble, and cook for 2 mins.
While the meat is cooking, melt the butter in a small skillet or saucepan over medium heat. Stir in the flour and cook for 1 min., then whisk in the milk and let it come up to a bubble. cook for a minute or two to thicken, then stir in the cheese. Remove from heat.
Spoon the filling onto the roll bottoms and top with the super thick provolone cheese sauce. Set the roll tops in place.
OPTIONAL SIDES:
Tuesday
Crockpot Bacon Cheeseburger Soup
from
Family Fresh Meals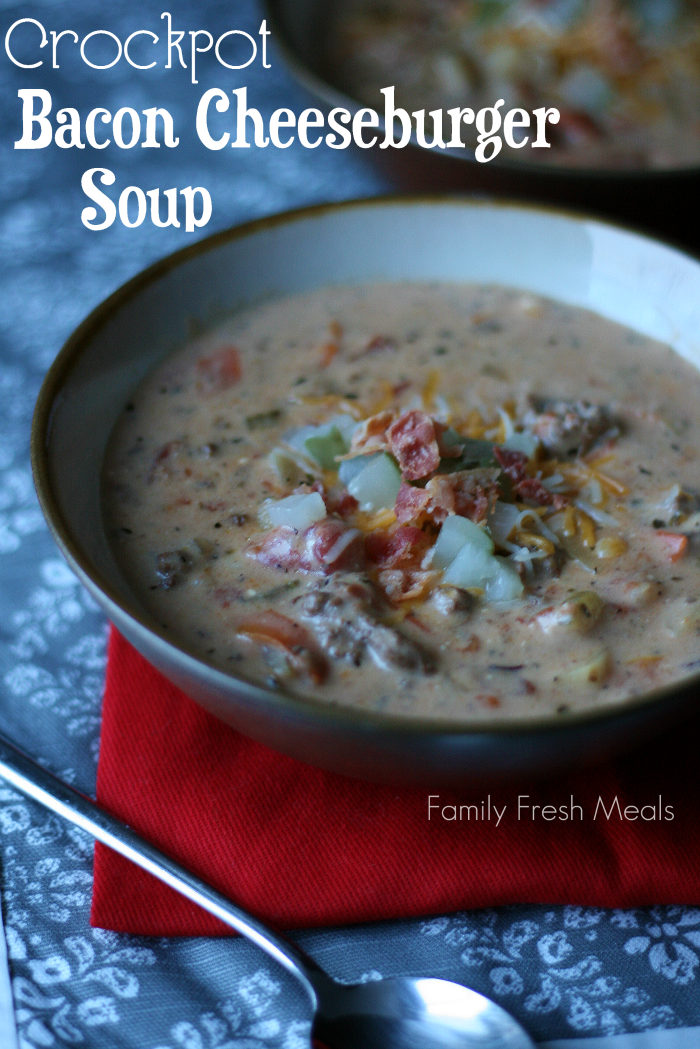 INGREDIENTS:
1 lb ground beef
1 cup onions, diced
2 cups shredded sharp cheddar cheese
1 can diced tomatoes
5 strips of bacon, cooked and crumbled
1/2 cup celery, chopped
1 cup carrots, shredded
2 cups potatoes, cubed
8 oz cream cheese, cubed
4 cups chicken broth
1/4 cup flour
1 cup milk
3-4 garlic cloves, minced
1 tsp salt
1/2 tsp pepper
DIRECTIONS:
Start by sauteing onions and browning your beef together, until meat is no longer pink.
Combine all ingredients EXCEPT for the shredded cheddar cheese, milk and flour
Stir to combine ingredients. Cover and cook on LOW for 7 hours.
When 10 minutes are left, you are going to add a thickener and your cheese. to make the thickener, combine milk and flour. Whisk until clumps are gone.
Uncover the crockpot and stir in cheese and thickener. Cover and cook for the remaining 10 minutes, until cheese is melted.
OPTIONAL SIDES:
Wednesday
Crockpot Chicken Tacos
from
Love Always Mommy
INGREDIENTS:
4 boneless skinless chicken breasts
1 packet taco seasoning
1 jar mild salsa
tortillas
toppings (cheese, sour cream, etc.)
DIRECTIONS:
Put your chicken breasts in your crock pot, pour the taco seasoning over the chicken breasts. Then pour the salsa on top. Set crock pot on low and cook for 4-6 hours. You should be able to shred the Chicken with a fork.
Put some chicken in a tortilla and top with whatever you wish.
OPTIONAL SIDES:
chips and salsa
spanish rice
refried beans
Thursday
French Dip Panini
from our Family Favorites File, adapted from
Rachael Ray
INGREDIENTS:
4 Tbsp butter, softened
1 shallot, finely chopped (optional)
1 Tbsp cornstarch
2 cups beef broth
1 lb sliced roast beef
1 pkg Flat Out! flat bread
4 oz pepper jack slices
DIRECTIONS:
In a medium saucepan, melt 2 Tbsp butter over medium heat. Add the shallot and cook 1-2 minutes. Add the cornstarch and cook for 1 minute. Whisk in the beef broth.
Add the roast beef to the sauce and warm over low heat.
Butter the outside of one piece of flat bread. Put roast beef and cheese on bread. Fold in half and press on a grill.
Divide remaining roast beef sauce into small bowls for dipping.
OPTIONAL SIDES:
onion rings
vegetable of your choice
Friday
Michigan Dogs with Cheese Sauce
from
Rachael Ray
Today is the Detroit Tigers Home Opener vs. the New York Yankees. I am originally from the Detroit area and I grew up watching the Tigers. My whole family are huge Tigers fans and when I married Prince Charming he jumped right on board. Now even Bug-A-Boo gets into the spirit of opening day. Since her first Tigers Home Opener, in 2008, we have had our picture taken together in our gear.
2008
2009
2010
2011
2012
INGREDIENTS:
Michigan Sauce:
1 Tbsp olive oil
1/2 lb ground beef chuck
1 Tbsp chili powder
1-1/2 tsp smoked sweet paprika
1-1/2 tsp ground coriander
Kosher salt and pepper
1 Tbsp tomato paste
1-1/2 cups beef stock
Cheese Sauce:
2 Tbsp butter
2 Tbsp flour
1-1/2 cups milk
1 cup shredded yellow cheddar cheese
1/2 cup yellow mustard
Other:
8 large all-natural pork or beef hot dogs
8 bakery hoagie, sub or hot dog rolls, split open like a book
DIRECTIONS:
Heat a griddle over medium-high heat.
Bring a few inches of water to a boil in a deep skillet. Reduce heat, keeping the water at a low boil.
Make the Michigan sauce: Heat the olive oil, 1 turn of the pan, in a saucepan over medium-high heat. Add the ground beef and brown, 5 to 6 minutes, crumbling with a wooden spoon as it cooks. Sprinkle with the chili powder, paprika and coriander; season with salt and pepper. Stir in the tomato paste and cook 1 minute, then add the stock. Reduce the heat to simmering.
Make the cheese sauce: In a small saucepan, melt the butter over medium heat. Add the flour and cook 1 minute. Whisk in the milk, season with salt and pepper, and cook until thickened, 1 to 2 minutes. Melt the cheese into the sauce. Whisk in the mustard and reduce the heat to low.
Add the dogs to the boiling water and cook 4 to 5 minutes to heat through. Remove the dogs, split them lengthwise, and open like a book. Place on the hot griddle long enough to crisp the inside of the dog as well as the casing, a few minutes.
Nestle the dogs in the rolls and top with both the Michigan and the cheese sauces.
OPTIONAL SIDES:
corn-on-the-cob
chips
Apple Pie for dessert
Saturday
Classic Steak Frites
from our Family Favorites File adapted from
Redbook Magazine
INGREDIENTS:
1 Tbsp olive oil
20 oz boneless NY Strip Steaks
12 oz bag of Shoestring Fries
Salt and Black Pepper
1/4 cup of brandy or bourbon
1/2 cup heavy cream
DIRECTIONS:
Cook fries according to package
Season steak with coarsely ground black pepper and salt.
Heat a large cast iron skillet over medium heat. Add olive oil. When heated add steaks. Cook 3-4 minutes on each side. Transfer to plate, keep warm.
Remove skillet from heat and add bourbon. Raise to medium-high heat and bring to boil. Add cream and cook over high heat until reduced or thickened, 2-3 minutes. Stir in 1/4 tsp salt. Pour over steaks.
OPTIONAL SIDES:
steamed broccoli or asparagus
Next week I'm going to explore one of my cookbooks. Check back to see which book and which yummy recipes.